T and P listen to close to 100 audio books last year. They both love them and listen every night when they go to bed, and also during the day if they are playing in their rooms. If you research, there are many benefits of listening to audio books, aside from just the pleasure of listening to a cool story. Listening to stories increases their comprehension, vocabulary, and well, their listening skills. And who doesn't a child that is a good listener?!?
Beloved Books generously sent us the first volume of the Sugar Creek Gang audio stories for us to review. The kids were thrilled to be getting new stories and I was equally thrilled to be getting new WHOLESOME stories. I had no idea what we were really getting....read on.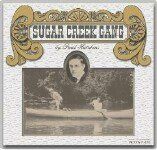 Paul Hutchens began writing the Sugar Creek Gang Series in 1939. It is an exciting adventure series steeped full of Christian values and the Gospel message. My kids have been listening to variety of audio books, like the Little House series (that P has listened to several times), Beverly Cleary and Judy Blume stories, Newberry books, and one of T's favorite (although not classic literature - lol) is
Hank the Cowdog
. However, none of those have made the impact on our kids lives as the Sugar Creek Gang series!
Volume 1 includes The Swamp Robber, The Killer Bear, The Winter Rescue, The Lost Campers, Chicago Adventure, and The Secret Hideout.
When the CDs arrived, they immediately put the first CD in listened to it while drawing (T) and sewing (P). They were hooked. I was in and out of the kitchen listening too and was impressed with the expressive reading. The reader has a soothing voice, but definitely kept their attention. Beloved Books suggests that you listen to the CDs in order as the story progresses through them. T called dibs on listening to disk 2 so P took the night off. Each story is divided into 2 CDs and is about 2 hours long total. I expected them to listen to 1/2 one night and 1/2 the next but found out they were listening to entire stories in one night. Yikes!
T finished almost all the stories the first week (and has already listened to them all twice in the month we have had them!). P caught up a few days later and came downstairs crying one night. She climbed in our bed and told us that she wanted
to be a Christian like Circus (a boy in the story who c

omes from an unsaved family and

had just gotten saved). She has been talking to us about it for probably a year but she never seemed to "get it" and we just kept praying. That night, we talked about it for a while and then she said she wanted to sleep but tomorrow she wanted to be a Christian.

The next night, w

e came home, ate dinner, and she said, "Now I'm ready to be a Christian!". We talked a lot, read some verses together, and she prayed and accepted Christ. She will always remember Sugar Creek Gang as part of her salvation story! How cool is that?
After that, I decided I needed to listen to these

CDs

too. The kids are always telling me stories about what happened to the "gang" and the adventures they had. The series is told from the point of view of 9 year old Bill Collins (T says he turns 10 in this volume but I haven't gotten that far yet). He and his buddies are respectful, mostly Christian, good kids that like to have some fun and explore. From what I have listened to, they aren't perfect kids and they talk about Christ in normal conversations. They also talk about other things relevant to kids. In the context of conversation, they talk about science, food, obedience, and accountability (I love that two of the boys promised each other they would read their Bible every day and pray for each other by name...and they do it!).
I so wish my family lived next door to these boys and went to their one room schoolhouse with them. I know they would love them and I would hope their Godly character traits would rub off on my kids. Instead, I pray their Godly character rubs off through these amazing CDs. Clearly, it made a difference

in

P

's life!
Since Bill Collins talks you through his thoughts, I hope they will begin to think like him. Thinking of Scripture and wholesome things instead of all the nastiness that is surrounding them in this world.
T also started requesting the Sugar Creek Gang books from the library since he enjoyed them so much!
Since getting these CDs, we have ordered the next two volumes for the kids. (shhhh...they will be so surprised!) One we will give them before we take an 8 hour drive next month, and the other we will give them for Christmas.
I am that impressed! If anyone is itching to get them a Christmas present, feel free to get them Volumes 4

-6 ;o)
To see what I am talking about, click here to listen to the complete first story absolutely FREE. Be careful though, once you start, you will be hooked!
http://www.belovedbooks.com/freebie.html
Each volume is $54.95 and can be ordered here. Also, they were so kind to give all my readers 20% off any purchase by using the code "MORE2LES" at checkout. There is no expiration on that discount so you can buy more later, as I am sure I will!
You all know how
cheap
frugal I am, so clearly we felt that these CDs were worth the expense. You won't be sorry!
Check out what
other Crew Members thought
by clicking the banner below.
Disclaimer: As a member of the TOS Crew, I received these CDs
, at no cost to me, in exchange for my honest review. All opinions are mine.