Samson's Classroom
is an online resource for K-5th graders that has got it going on. Our biggest complaint about it is that it doesn't have every subject! LOL! There is a
demo video here
that gives a good overview of the program. Check it out!
There is so much to love about Samson's Classroom. First, it was super easy to set up. As the teacher, I have a "master" control panel where I input their information. I put in their name, username, password, and email (used my email for all of them). I like that I could pick their username and password so I could pick one that they already know. That made it easier for when they logged into their games.
That's it. There are no levels to chose or anything from this point. The kids can chose their own levels when they play. When the kids log in, they are ready to play. No tests or placement assessments, just start where you want to start. I told P to start at the beginning and T at the 3rd level. They ended up skipping around and did a wide variety. I didn't mind since even reviewing is good, in my opinion.
There are three sections of games in Samson's Classroom.

Sightwords
- Each level is divided into 5 steps and the kids try to earn different karate belts by completely all the steps. The kids thought this was cool. In the 1st step, they teach the words. In the 2nd step, they fill in the blanks on those same words. Step 3 is letter scramble where they say the word and you click on it. Step 4 they spell the whole words out. And step 5 you find the correct word to use in a sentence. When they have finished all 5 exercises, they knew the words pretty well! It was great. If they struggle on one of the later steps, they can go back to any of the beginning ones and do them again until they master them.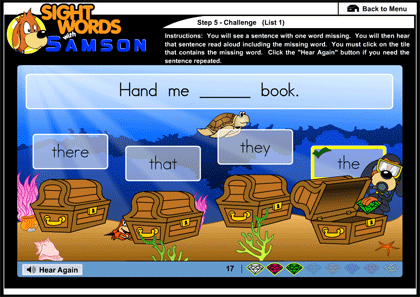 Spelling
- In the Spelling section, you can put in your own spelling words or chose from lists already there. We did both. Sometimes they just chose a word list on their grade level and I also put in T's vocab words in there. Some of them weren't available though so I requested them to be added later on. There are 4 sections of spelling. First you get the list to practice. You can print it and/or study on the screen. Next is the karate room, where the kids fill in the blanks and Samson karate chops the boards if you are right. This is another fun one. As a mom, I like that they use the words in sentences for you. The kids like all the cool ways Samson breaks the boards - haha. The next section is Spelling Scramble. A lot of people had trouble using this game as the controls are a little wonky. I guess my kids have wonky brains because they were pretty good at this, rarely getting Samson caught by the spider. They liked this one. I couldn't do it ;) The last spelling game is Crunch Time where you spell words before a walrus eats you - lol. The kids really liked all of these games and I always like learning while you play!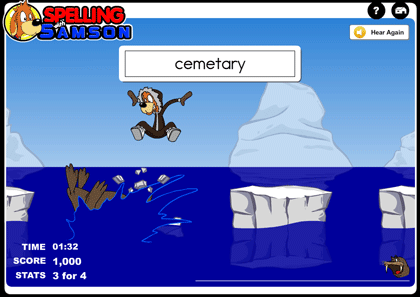 Reading
- This was probably my favorite. The kids read passages and answered comprehension questions about what they had read. I don't do enough of this and this is something that is always on achievement tests (which I don't happen to teach towards - haha) so I really think that doing this will help them when they test this spring. We plan to keep this up every day! If they miss a questions, it highlights the part of the text that the answer was in, and gives them another shot at it.
Notice on the bottom of that picture...the circles that are colors. They get a solid green if they get it right on the first try. Half red/Half green if they got it right the second try. And all red if they missed it both times. I can go into my account and see all of this! From the parent dashboard, I can see each game that each kiddo played, and how they did. Not only does it show how many they got correct, it shows how long it took and when they did it. It is so nice to have it all in one place like that.
Another really cool part of their site is the
Resource Center
. There are lesson plans with printables for flashcards and games that go right along with the words they are studying. There are also worksheets for every level of sight words! These were great for our daily work. Sometimes I need "busy work" for one while I am working with another. They were quick and easy and they should know all the words by the time we did the worksheets so they were good review.
We really enjoyed this and I thought it was a pretty good value. I liked it because they didn't complain about having to do it everyday, it was something they could do completely on their own once we sat down and went through it once, and they were learning while having fun! They liked it because, well, it was fun ;o) It says it is for k-5th grade. P and T are 2nd and 4th and it was perfect for both of them. P could use it a few more years and T will likely finish it all before our subscription runs out. I hope they continue to add on new levels of words and stories so he doesn't run out of them! I really do wish they would add in more language arts, like punctuation, capitalization, and grammar rules. :O)
We were given a family membership which is $50/year and allows us 4 different users. They have several
different pricing plans
though as shown here:
Check them out and check out what
other Crew Members
thought by clicking the banner below.
Disclaimer: As a member of the TOS Crew, I received this

subscription
, at no cost to me, in exchange for my honest review. All opinions are mine.