Princess P has been wanting to learn to play piano for a while now. I bought some books and figured I would just teach her myself...but never make the time. We have done about 5 lessons in a year :(
So, when
Kinderbach
came up for review, I figured this was my chance to get P some lessons, but I didn't realize how much she would really enjoy this! I was even more excited to find out that we would be reviewing the new
Kinderbach App
, specifically the
School Version of the app
, so we received all three levels without having to worry about in app purchases! I wanted her to be able to bring the ipad to the keyboard for her lessons even though the app has a keyboard on the bottom of the screen, which was perfect for when we were doing it away from home.
link
that explains how children who have been taught music do better in school. Pretty cool!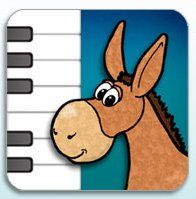 The
app
is for ages 3-7, so P is on the high end of this, but still enjoyed it a lot and learned quite a bit about music. IT downloaded quickly because it doesn't download all the lessons when you initially buy it. Instead, it downloads them the first time you click on them. That makes for a short wait each time you play, instead of a long wait when you buy it. Once you have loaded them though, you can do them over and over without having to reload them.
It has Levels 1-3, which could be a school year's worth of lessons. Each level has 10 lessons; each lesson has an intro and 4 instructional videos and are intended to last a week. The videos are short and engaging and include Frisco and his cute toys, like
Dodi the donkey
and
Felicity the Frog
. Each of the "toys" lives on a note that matches their name (Dodi lives on D, Felicity lives on F, etc) and they learn how to find their houses.
There are also several games to play that vary in difficulty. P and T both liked playing those, even though T only watched a few of the lessons with P. The games used the theory you were learning, like which note is where or which finger is which in fun little games. Very clever.
I was impressed with how much P learned and retained over the last 6 weeks. She was familiar with some of the notes before, but this program solidified them for her. She also learned how to properly play the piano (on the tips of her fingers...when we started the program she was playing them all flat) and how to keep beat. She liked to bring the iPad over to the keyboard to watch the lessons, usually doing at least a week's worth of lessons in one sitting! She would enlarge the video to full screen and use our keyboard instead of the on-screen keyboard. She learned how to recognize if notes are going up or down (by ear and by sight) and there were fun activities for her to do to learn this. It wasn't just sitting at the piano and watching a video - there were active things for her to do. Once I came in and she had a plate and fork and was banging out a beat while watching a lesson. Another time she was strumming the beat on her guitar. It was cute.