I can't even tell you how excited I was to have the opportunity to do a review for
Beeyoutifu
l products. We try to use natural things as often as we can around here and I'm always looking for something new. The Crew had the choice of a makeup set, skin care set, or a set of healthcare products. A friend introduced me to homeopathy a few years ago and that is now my first go-to when an illness or injury hits the E house. So...I chose the healthcare set, although it was a tough choice as I was interested in it all!
Beeyoutiful is a Christian company that isn't afraid to say so. Check out their
values here
...refreshing, isn't it? I did have one incident with one of my products (keep reading for details) and they were very generous with their solution. This is a family owned business with exceptional service. They are equipping people to take care of our own health with quality natural products.
The set I received included:
1 bottle of
Berry Well ($19.75)
- organic Elderberry Syrup containing Propolis, Raw Honey, and Echinacea.
1 tub of
Miracle Skin Salve ($15)
- Coconut oil, extra virgin olive oil, beeswax, bee propolis, organic plantain leaf, organic comfrey root, organic calendula flowers, and essential oils of lavender and rosemary.
1 stick of
Ow!-Ease ($15)
- Extra virgin olive infused with organic chamomile, organic calendula, organic St. John's Wort, organic arnica, cayene, coconut oil, beeswax, lavender essential oil, rosemary essential oil.
We opened up the box and admired all the pretty new products, then waited to need them - haha. We didn't have to wait long, unfortunately!
Princess P woke up the very next day with a 102.5 fever. We were planning to go to AL the day after that to meet my new nephew so were very bummed. I'm not one to jump in and treat a fever just to get 'rid of it. I feel like it is there for a reason and our body uses fevers to fight off whatever is ailing us. I'm also not one to run into the dr for every fever or cough....But...since we were supposed to be leaving, and P had had Strep exactly 30 days earlier, I called and got in to the dr right then. They said her throat was yucky looking and fever was still high, but no strep. Just a virus and unfortunately, you just have to wait those out. The kids were so bummed we couldn't leave the next day and we started praying for her to get better. We also gave her, and all 4 of us that were going to AL, a dose of Berry Well. I gave her another dose that night but she still had a 101.7 fever when she went to bed (still no other meds since it was viral). She woke up the next morning with a 97.6 fever and felt great. None of us got anything after that and I think the prayer and
Berry Well
are to credit for it! YAY! We all four took it for 3 days, just to make sure, but that was it. I'm a believer! We will definitely keep this on hand for all those nasty viruses that find us.

I stuck all these products in my purse and we headed to AL a day late. As soon as we got there, I jumped out to meet my family and slammed my van door into my leg. IT HURT and immediately got purple! Sweet - I grabbed my
Ow!-Ease
, glad to get to use it. Unfortunately, all the product had fallen out of the applicator and was in the lid. I just dug my finger into it and put it on anyway. Now, those that know me know that I bruise if you look at me funny but this didn't bruise AT ALL! I have Arnica that I use normally, both a gel and pills, but it doesn't work nearly as well as the Ow!-Ease did! The combination of ingredients is perfect. Love it! I emailed the company about the issue with it falling out of the applicator and they sent me a new one. I haven't had any problems with it and was surprised to receive the replacement - very cool! I imagine that was just a fluke as no one else has complained about it. Everyone with kids (or clumsy adults) need to carry this in their purse! We have used it a LOT in the past month and it really works well!
Then on to the
Miracle Salve
. I certainly hadn't planned to use all these products in the first week, but we did! We were staying with my parents and P was helping to ice cinnamon rolls and touched the pan accidentally. She instantly teared up and started to cry. I grabbed the salve and put it on and that was that. Really did work like a miracle! We have since been using this on bug bites and any random bumps or cuts we get and it has worked great. If you check that link, there is a long list of things this can help. After watching the DVD, I saw that you can use it on acne so have had C putting it on any little bump he gets (his baby bottom smooth skin is starting to show his almost 13 year old age with tiny bumps). It is working so far! Love it!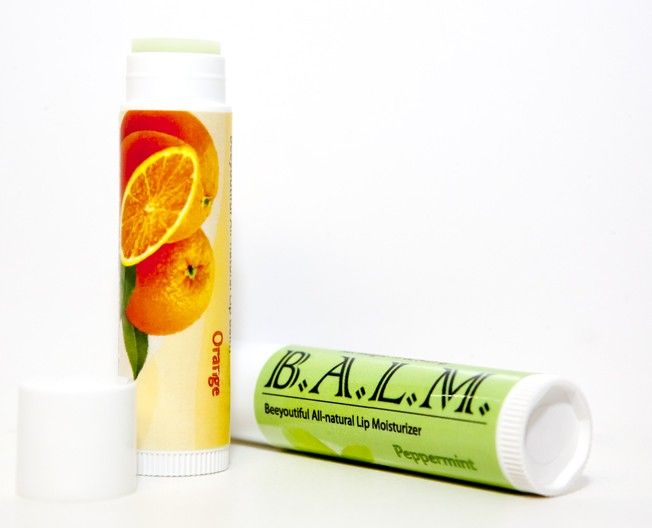 Last, but not least, the
Lip Balm
. I have suffered with chapped and peeling lips since having kids! I don't know why or what the issue is, but it is super annoying! I have tried probably 20 different lip balms or lipsticks. Some that are very pricey! And nothing works. If I wear lipstick, I can count on my entire lips peeling the next day. It's ridiculous, really. So, I was skeptical about this but excited to try something new. I was also skeptical about the orange flavoring as orange isn't my favorite...but mixed with the peppermint, I really like it! It hasn't been as drastic as the other Beeyoutiful products for me, but it isn't make my lips worse, which is huge! I have been wearing this most days since receiving it and my lips do not "peel off" like when I wear other things. I was hoping it would heal them completely, but they still feel rough. I don't know that anything will change that. But I will continue to use this for sure, and at $3.00 a stick, it works way better than much more expensive products.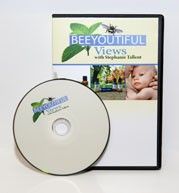 We also received a DVD about the company and products. Since we headed out of town so quickly after receiving it, I didn't get to watch it until I had already used all the products at least once. That's ok. Everything told how to use it on the labels, but I do recommend the videos! I learned so much watching them. I didn't just watch the ones on the products I received, although those were interesting too and I learned other ways to use the products. I also made a "wish list" of other products I want to get for our family, like
Tummy Tune Up
and
Activated Charcoal
. And who knew that activated charcoal was good for so much, like whitening your teeth and cleaning your face? I didn't! I loved that the video didn't seen to talk down to you at all and gives Steph's email and phone number so often. They truly seem to be a company that cares about their clients.
I highly recommend all of the products I received and the company as a whole. As I said before, other Crew members reviewed different products so you will definitely want to check out their reviews by clicking
here
.
Disclaimer: As a member of the TOS Crew, I received

these products
, at no cost to me, in exchange for my honest review. All opinions are mine.