In September, I was given a fabulous book to review called
A Cry From Egypt by Hope Auer
. You can
read the whole review here
, but in a nutshell, we loved this book! I have recommended it to so many people and loaned my copy to several kids at CC.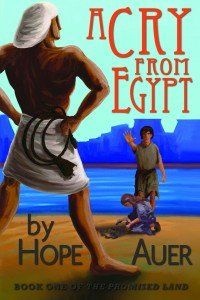 Briefly, A Cry from Egypt is a beautiful, historical fiction book that takes place during the time that Moses was trying to free the Israelites from Pharaoh (roughly Exodus 5-12). It tells the story of Jarah, a 12 year old Israelite slave, and her family and friends as they all intermittently suffer at the hands of the Egyptians and watch in amazement as Yahweh rains down plagues on the Egyptians because their stubborn and arrogant Pharaoh will not let God's people go free. Jarah's mother is the only one in her family who does not believe in Yahweh and it is very interesting to read about this "house divided", so to speak.
It brought this portion of Scripture to life and I'm so honored to have been able to have my family read it.
And now,
Hope
has so graciously offered a free autographed copy of her book to one of my readers! Just fill in this Rafflecopter below and it could be you.
Good luck!
a Rafflecopter giveaway