I think I've already told everyone I know personally about this book so this review might be a bit redundant. LOL! This is one for homeschoolers and non-homeschoolers alike, guys, so read on....everyone! (even you, Mom, who says you don't read my homeschool reviews!)

Hal and Melanie Young, authors of
Raising Real Men
, are the chief publishers at
Great Waters Press
. They are releasing two wonderful new books:
Children in Church, Nurturing Hearts of Worship
and
A Cry From Egypt
and allowed The Crew to review them.
Since CC Cycle 1 is about Ancient Civilization and we are studying Egypt right now, I eagerly chose to review
A Cry From Egypt
, by
Hope Auer
. I loved that she was homeschooled and that even her illustrator was homeschooled (and graduated in the middle of this project). How cool to see Christian homeschoolers publishing
quality
work!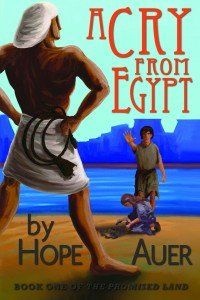 A Cry from Egypt
is the first of four books in the Promised Land Series. Miss Auer began this book when she was only 13 (That's like C's age!?!?!) and her family was studying Ancient Egypt. She is only 20 now but this book does not read like a book written by a "child" at all. She has obviously done her research and even includes some more of it at the end of the book so we could continue the study after we finished reading.
Briefly,
A Cry from Egypt
is a beautiful, historical fiction book that takes place during the time that Moses was trying to free the Israelites from Pharaoh (roughly Exodus 5-12). It tells the story of Jarah, a 12 year old Israelite slave, and her family and friends as they all intermittently suffer at the hands of the Egyptians and watch in amazement as Yahweh rains down plagues on the Egyptians because their stubborn and arrogant Pharaoh will not let God's people go free. Jarah's mother is the only one in her family who does not believe in Yahweh and it is very interesting to read about this "house divided", so to speak. That brought up some good discussion. We had just been reading about Greek and Roman gods in CC so it was also interesting to add in talk about the Egyptian gods. I love homeschooling and how we can teach our kids about these false gods in a safe environment and also teach them about the One True God, Yahweh.
When this book arrived, I showed it to T and he read the first chapter. I had planned to read it aloud with him and Paige but since T had already started, I thought we would just sort of tandem read it. We would each read a chapter and then discuss it. I had no idea that I would read the first chapter, and then stay up that night reading the next TEN chapters before crashing and finishing it the next day! I'm not even kidding (ask Big Daddy who had to sleep with the light on, then have me wake him up when I couldn't read anymore to tell him all about it!). I got sucked in in the first chapter to this story.
Sure, we all know there were plagues and if you grew up in church, you probably still remember the words and motions to "Pharaoh, Pharaoh, OOOOOOHHHHH let my people go, UH!" but I have never read such an amazing account of the story. I felt like I was there, hurting with the Israelite children who were being beaten and forced to work in horrible conditions, worrying about the little Egyptian brother and sister who's dad was a drunk (and a priest!) as they were starving and scared, and frustrated and angry at Pharaoh for being the cause of all this suffering (on both Egyptians and Hebrews).
It brought this portion of Scripture to life and I'm so honored to have been able to have my family read it. T and I read it now. C is going to read it when he has a little break in his Challenge work (Christmas break?). And even Big Daddy is going to read it he says. I'm not sure if I'll read it to P now or wait until next time we are in Cycle 1 (read on for why). Needless to say, I'm sure we will never hear "Yahweh" or something about the plagues in Egypt again without thinking of this book.
I truly can't say enough good things about this book. It has brought up some great conversations between T and I, and also with the whole family around the dinner table. Including who Yahweh is - T read the first two chapters before asking me and when I told him he said, "Oh, that makes more sense."
Since I had read ahead of T, I was hesitant to have him read the parts when the Israelites were being whipped and scared. He is very sensitive to things like that, but you know what, he did just fine with it and just said that it was sad. He loves the Bible and loved getting this different look at a familiar story. When I get to that part with P, I'll likely skim it though, as she is just 7, or I may wait for a few years for her to read it. The book is recommend for ages 8+ and I imagine that is the only reason. There is some slight "romance" in it so I wasn't sure if the boys would balk, but it is all very wholesome and appropriate, giving us a glimpse of how engagements worked at that time.
I asked T to give his opinion about the book. He said, "There is not one bad thing about this book. It's an awesome book and I am going to save my money for the next one. I like it when God makes it dark to show that there isn't really a god of the sun. If it were me, I would have been saying, 'Where is your god? Is he sleeping?' during the plagues." So there you have it from a 9 year old boy ;o)
There are a limited number of
advanced reader copies available right now for $12.50
. It is worth every penny of that, in my opinion. And we are extremely excited that there are 3 more books coming out in this series. T asked me today if we get to keep this book. I told him yes and he said, "YAY - I'm going to keep it on my desk and put the others with it when they come out." We can't wait to pick up with Jarah and her family again as they head out of bondage and toward the Promised Land.
Click the banner below to see what other Crew members thought of this site.
Disclaimer: As a member of the TOS Crew, I received

this product
, at no cost to me, in exchange for my honest review. All opinions are mine.