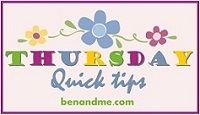 When you haven't been to the grocery store in close to 3 weeks, throw whatever you can find in a crescent roll (with cheese, of course) and voila...dinner is served.
Granted it was just T, and P eating tonight. It would take a lot more than refried beans/cheese or pepperoni/cheese to fill up "hollow leg" C. Naturally, they liked this WAY better than the dinner last night that was an actual meal - albeit a throw-whatever-I-can-find-in-a-crockpot-and-hope-for-the-best meal, but at least it had chicken and rice in it!
I promise we are grocery shopping tomorrow! Yikes.
What quick can you share really quickly? Link up with
Ben and Me
each Thursday :)