I had never heard of
Supercharged Science
before it came up for review, but am SO thankful to have found it. Aurora Lipper is the brain child behind Supercharged Science. She has such an amazing passion for helping kids have FUN with science that you can't help want to jump right in. She takes all the fear out of it for us moms, which is awesome. We were given their
K-8 e-science
program to review, which is an online subscription to their site that runs $37/month.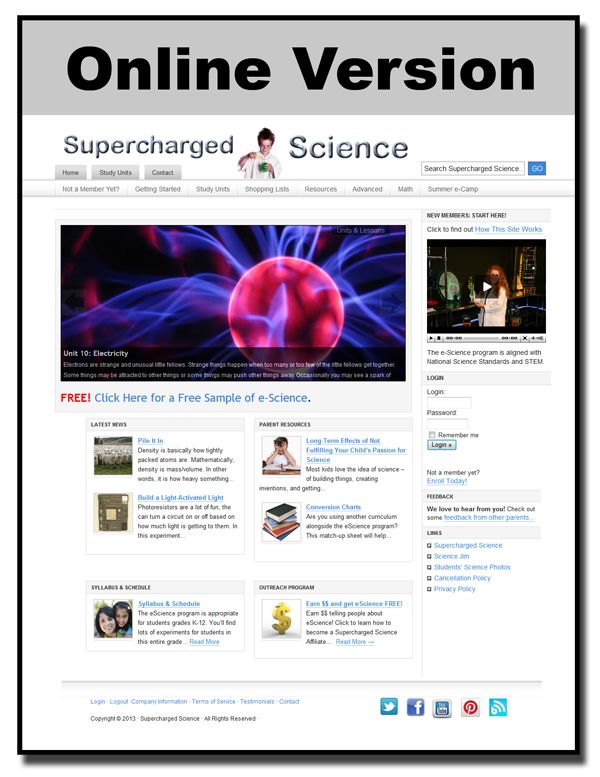 I wasn't scared really, but a little nervous about starting a new science program. Would I need tons of supplies, prep work, etc? After we watched the
Getting Started
video, my mind was at ease and we were ready to begin.
We were given full access to all the study units right off the bat so we would have all we needed for the review. The full access includes 19 units, plus bonus units on The Scientific Method, Math and Science Fair Projects. Normally, when you sign up for the program, you receive access to the first 7 units, then get access to 2 more each month you are a subscriber. One of my favorite things so far about Supercharged Science, is the customer service. Say you want access to unit 18 but have only subscribed for a month, you can email them and they will give it to you. Also, you can contact them anytime with any questions you have and they are great to answer (I tried a few without telling them I was on the Crew and got great, quick replies!). If you get stuck in the middle of an experiment and can't figure something out, contact them and they will walk you through it. Love that level of customer service.
OK, so back to us...I decided to start with the lessons on The Scientific Method, which is before even unit 1. We printed out page after page of EASY experiments that used things we had at home. We all had a great time exploring science and solidifying the Scientific Method in their heads. We use it each year in CC so it was good to get to practice it at home. Our favorite during this session was determining how many drops of water you can fit on a penny. We were WAY off - haha. We guessed around 10 and got 40!
Then we tried it on dimes, nickels, and quarters. We had almost 80 drops on this quarter before it spilled over. So fun!
I loved that we had the things laying around for almost all of the experiments. Since we are studying biology at home, we skipped ahead to units 18 and 19.The units are broken down into lessons. Unit 18 was broken into 3 lessons, which took us about a week to do each one. They include reading, videos, experiments and exercises. I would read the reading information aloud to all of them (C usually sneaked downstairs for our lessons - haha), then move on to the video and our first experiment. Some were quick and some were longer, but we usually tried to keep it to less than an hour or we really could have JUST done science all week.
One day we made an
insect aspirator
. Their simple directions (with a video included!) included again, things we had laying around. And it worked! We used it to suck up rice and sugar - lol.
Another day we made a
robotic hand
- haha. It was a little tougher, but very cool when we got it done. T kinda gagged when we were using it and showing how our tendons can pull our fingers up, just like the string pulled the robot fingers up. He will not likely ever be a doctor ;o)
Unit 19 has more lessons so we haven't quite finished that one yet but will keep working through it the rest of the month. This has matched well with what C is doing in Challenge A this year at CC. Depending on the experiment or exercise, they all three could do it or some C had to really take the lead on (like this hand). It was a great time of working and learning together.
This summer, I'm planning to let the kids take turns picking the units they want to do. This will be awesome summertime fun. We don't stop schooling during the summer, just add in more of these "fun" things and this is perfect for that! They have all loved science since we started reviewing this program. Mission accomplished! I even got them doing some math with the
Mathmagic
unit. We have some cool ways to "trick" our friends now and a fun number game to play that includes logic and reason. In Challenge B next year, C is going to get to participate in a science fair. Normally, that scares me half to death as I know it is
supposed
to be the kids' projects, but come on, we all know mom and dad play a big part. I was pumped to see a
unit on science fair projects
- woot! Look out Owasso CC, we've got this. ;)
Bottom line: This is the perfect science curriculum for someone like me, who isn't overly science minded. Aurora took all the "work" out of it and the kids and I both had such a good time learning together. 2 or 3 times a week, we get emails with tips and ideas in them, or sometimes they just direct you to the site for more fun. You could definitely use this as your complete science curriculum, but if you would like to use it to supplement your current curriculum, they have even taken the work out of that for you with their conversion chart. Here they take the most popular vendor's books and show which of their lessons would match up. Love it!
Like I said, it is $37/month and you can cancel at any time. She also offers a full 30 day money back guarantee so you can try it and if it isn't for you, you aren't out anything. What do you have to lose?
Click to read more reviews from the Schoolhouse Review Crew.