I used
Touch Math, a multisensory approach to math, when I taught Special Ed years ago and it really clicked with a lot of my kids, so I was excited to get the chance to review it and use it with Princess P. We received all four units of the 2nd Grade Homeschool Program to use, as well as their amazing manipulatives. The kids flipped when they saw the big box of manipulatives they sent us for this review. Touch Math was SO generous to send us all the manipulates for 2nd grade. This post is going to be loooong as there is so much to cover. Grab a drink and keep reading...
The first thing they did when the box arrived, while I was reading the pdfs we received, was punch out all the touch dots on the Touch Numerals ($99) and play with those. The Touch Numerals are a wonderful tool for teaching the touch points and how to use them, base ten (the dots have cool holders that hold TEN dots each), and great hands on problem solving. They looked at the Student Number Cards ($24/10 sets) and matched up the dots on the Touch Numerals right away. Since they are older (T had to join in the fun with P on this - love when learning tools look fun so kids will think it is a game!), they picked up on the touch points really quickly. If you are starting with younger kids, you will have to spend some time teaching the correct locations and how they work - it teaches it in the curriculum too so don't stress and just let them play for a bit. Through "playing", P got comfortable with the locations of the dots and was ready to begin the lessons. I can't wait to use these when she learns multiplication!
If you check out the webpage for the 2nd Grade Homeschool Curriculum (
each of the units are $59.95 or $199.95 if you buy them all at once.), you can see that there are 4 units in each grade. They come as downloadable files in pdf format. They are HUGE files, at least to 200 pages each! - there is a lot of info there. I saved them all to dropbox.com, which I use to save everything so I can access it from all our computers or my ipad, then started at the beginning and read through the Implementation Guide. Read this. It explains the philosophy behind the program and how to use everything. Trust me and read this! I didn't print all this out and just read it on the computer to save paper and ink. Then I went through each unit and chose the module (lessons) to start with. If we had received this at the first of the year, I would have just started at the beginning, but she has already covered some of the things so I wanted to get to new things to see how it teaches them.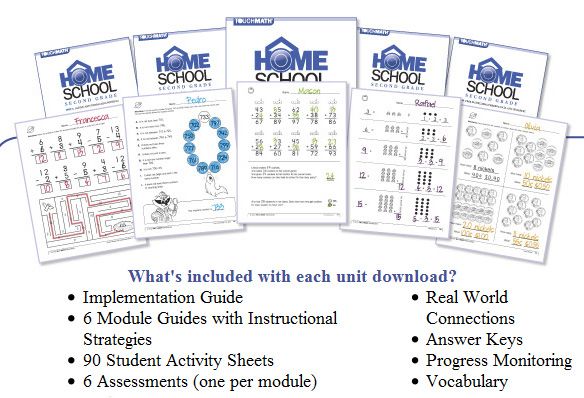 I chose Unit C to start with first, printed and 3 hole punched it, and put it in a folder. Each lesson has Instructional Strategies to use while teaching and then a small copy of the worksheet with answers to follow along with the student. Touch Math suggests you do Math for 2 1/2 times as many minutes as your child's age. Princess P is 8 so we "should" do it for about 20 minutes a day. I like this suggestion, instead of "do 2 pages a day." We used it as a guideline but she really liked doing it so we usually did at least 30 minutes a day.
Before we started, I let P help me put the
TouchPoint Posters
($43) and
Skip Counting Posters
(came with a CD for $79 that has printables of the posters so you could work on them more) on a display board. If you use a specific room for school, you could put them in the school room. Although we have a school room, we tend to move around where we do school (in front of the fire, at the table, in the bedroom, outside, etc, etc, etc) so I put them on here so we could move them around with us. We put the Touch Points on one side and Skip Counting on the other and they fit great. We put one of the
Desktop TouchLines
($19/24) in her folder so she could use it each day too. The TouchLines and Student Number Cards come in large packs for classrooms so you could split those with a friend. They are great resources to keep close when doing their math since they show where all the points go on each number. The more you can cement that in, the better. We only used one set of the cards and one number line so far. You do use them for all the grades so if you are starting this in prek, you might want the whole pack for yourself so you can replace them when they get yucky.
We started with adding and subtracting multiples of 10 and 100. This was new to her and even with the touch points, she just wasn't quite getting it. Then I pulled out the
Math Fans
($239) and YES! it started making sense. These are fantastic, durable manipulatives that were a great change from the normal base 10 blocks we use in other curriculum. These made it click! They are probably my favorite part of this review. :) They not only teach normal base 10 concepts, they also have shapes and fractions so we will continue to use these for many other lessons. Once she could SEE what it looked like to add 10 to a number, or 20, 30, or 60...she could do the problems and they made sense. WooHoo!
Once we started with the Math Fans, we had to have more. We spent at least an hour that day going through the 80 page PDF that came on a CD with these. We did ALL the pages in that kit over the next few days before going back to the normal lessons. I love homeschooling and that you can follow a rabbit trail sometimes if you just want to. ;) It made math fun and made P want to do Touch Math...so it was worth it!
We started back on our module after that and haven't looked back. We have now gone through more than 3 modules of Unit C and will definitely continue to use this until we finish it. There isn't a lot of time spent with you talking and the kids listening, you just get right to it. I like that in the "teacher's guide" there are real life applications for math all through it and we love the "Did you know?" random facts that were included. P likes doing worksheets too so this was great for her. They weren't the same everyday, which kept her liking them - lol. They mixed things up with HOW they asked the same things, if that makes sense. This is much more appealing than just a list of problems day after day. Anytime she got stuck on something, we would pull out our trusty Math Fans again and "show" her how to do it.
Another thing we really enjoyed were the
FlipCards
($19 each set). Again, Touch Math was so generous and sent us all 12 sets for 2nd grade to review. P enjoyed doing this on her own. They are nice laminated-feeling cards that she could write answers on with a dry erase marker if she was doing them alone, or we could do them orally together. Some of them have the answers on the back (in the question on the back... ie.commutative law...nice review for that!) and some didn't. I would have preferred if all of them clearly had the answer on the backs so she could check them herself. Some of them, like the ones pictures, you couldn't put an answer on as she was comparing numbers with greater than, less than, or equals signs. She would just do a few and I could check them. There are FlipCards for so many different topics that I'm excited to get to - money, measurement, shapes, skip counting, adding, subtracting, etc. It was fun to have this extra too to help her learn. And again, it was fun!
Last, but not least, we were given the
Touch Math Tutor Second Grade Software
to review. This was nice because P could do it totally on her own. She didn't enjoy it as much as the hands on things, but that was just her preference. I can see where kids would like it a lot. It was great to have just one more way to solidify these facts and concepts.
I could go on and on (yes, even more than I did) about this curriculum. Almost all of these manipulatives are used for several years so you would only have to purchase them once. And you can pick and chose which ones you think would work for your kiddos. If they don't like computer software, skip that...don't like flash cards, pass on those. You don't have to have all the manipulatives to make this a great program. Really. It was a HUGE blessing for them to send us everything to try and I am so thankful, but don't let all of the "extras" scare you away from just getting the
basic program
. That is the meat and potatoes of it all and you could certainly get JUST that and have a very successful math program for your kids. I also love that none of the products are consumable - we can use them for years and pass them on to others when we are done. Hopefully we will have some foster kiddos here to be blessed by them too! I can't wait to start on multiplication using the Touch Math system. Now that she knows where the touch points are, she can skip count them to find her answer. Love it!
This is a wonderful curriculum for teaching math to elementary and special needs kids. At this time, they only offer Prek, K, 1st, 2nd...or for special needs. When I taught 1-4th Special Ed in public schools and we used this and it worked great with many of my kiddos. I love a company that acknowledges that everyone doesn't learn the same - and tries to find a way to help people learn who learn differently. The tactile, visual, auditory is all mixed together in Touch Math and it really works.
One totally free side note - all those pages to print can be intimating. Several yeas ago...maybe 8...I bought a
Samsung ML 1740
black laser printer. Best purchase ever! I get ink on amazon that is generic but compatible for less than $20 for about 5000 pages! It is so cheap to print like this - all homeschooling families need a good printer. Find one, then you won't blink when things like this come up with 100 pages to print at a time. I have a nice color printer too, but rarely use it because this is so cheap. For this program, I printed each module as we went - teacher's guide and activity sheets. You could JUST print the activity sheets and read the instructional guide online to save on ink/paper if you don't have a fab printer like this ;)
You can read more reviews from other Crew members by clicking the banner below.

Disclaimer: I received a free copy of this product through the Schoolhouse Review Crew in exchange for my honest review. I was not required to write a positive review nor was I compensated in any other way. All opinions I have expressed are my own or those of my family. I am disclosing this in accordance with the FTC Regulations.