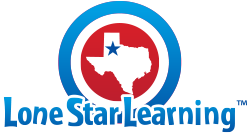 If you haven't heard of
Lone Star Learning
, you are missing out. I was blessed to be able to review their
Target Vocabulary Picture
cards for math and they are so cool! Each card has a word related to math on it, and it is drawn or arranged to show the meaning of the word. They are intended for grades 3-8, but I had P using them too and think really they can help anyone. Even adults can benefit from these picture triggers.
Aren't they cool? We received set 1, in the small 5.5″ x 4.25″ size. These were great fun for us and so bright and colorful that we loved "playing" with them. It is awesome when you can learn while playing! We chose a word a day...or sometimes a couple of them if they went together, like right, acute, and obtuse angles....then discussed them and reviewed them at lunch. I just left them out on the table all the time. After about two weeks, we had gone through enough of them that they started using them like flash cards and drilling each other. Thankfully, there was a sheet of definitions included in the package so I knew how to describe the pictures to the kids. :)
Here is P, practicing with the new words for the day. They have already memorized how to find the area of different shapes and circumference of a circle in CC, so this just puts a picture with that peg. Love it!
The
math cards
sell for $29.99 and include the following words (copied from site):
acute angle
area
circumference
complementary angles
cone
congruent
cube
cylinder
decimal
decreasing
diagonal
diameter
dividend
divisor
edge
equilateral triangle
even
exponent
exterior
face
greater than
hexagon
horizontal
increasing
interior
intersecting lines
isosceles triangle
less than
line segment
mean
median
mode
numerator/denominator
obtuse angle
octagon
odd
ordered pair
parallel
pattern
pentagon
perimeter
perpendicular
polygon
radius
range
ray
reflection
right angle
rotation
similar
sphere
supplementary angles
symmetry
translation
vertical
X axis
Y axis
The company actually made a mistake and sent me set 1 of the
Science Vocabulary Picture
cards first, but promptly sent out the correct math cards AND let me keep the science too! Awesome customer service!! There are 40 cards in the set and they are 5.5″ x 8.5″ in size. They are the same as the math cards - bright and coated for durability and full of possibilities for learning. It was a fun bonus to get these too. Many of the words are in our CC science lists we are memorizing so it was nice to put a picture with those words.
The science cards sell for $29.99 and include (copied from site):
blizzard
carnivore
Celsius
condensation
conductor
conglomerate
conifer
deciduous
evaporation
fall
fern
fibrous root
flood
friction
load – fulcrum
gear
gravity
herbivore
igneous
inclined plane
inherited
lever
magnetic
mammal
metamorphic
moss
permeable
precipitation
pulley
reptile
sedimentary
spring
stretch
summer
symmetry
taproot
turn
wedge
wheel
winter
I think these are both fantastic products for visual learners, which my kiddos are! Lone Star Learning has several other sets of math and science cards, as well as Latin/Greek root cards, which I want to get next. I liked that there were a lot of words they have learned in CC in there - since they are familiar with those "big" words, they could then attach a picture to it in their brains which will help them remember them forever. The price might seem a little high for "flashcards", but when you consider that all of your kids can use them, for years, it isn't so tough to swallow. ;)
To read more reviews from other Crew members click
here
or on the banner below.

Disclaimer: I received a free copy of this product through the Schoolhouse Review Crew in exchange for my honest review. I was not required to write a positive review nor was I compensated in any other way. All opinions I have expressed are my own or those of my family. I am disclosing this in accordance with the FTC Regulations.