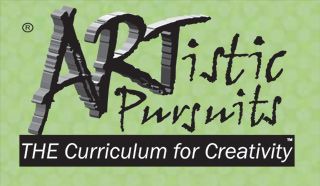 As I have mentioned before, T and P take art classes each week and are loving them. All three kids are very gifted in art and really enjoy it, but with C's Challenge classes, he didn't have time to take the class this year. So when
ARTistic Pursuits
came up for review, I was all over it! They have
curriculum
for preschool through highschool; we were blessed to be able to review their brand new, third edition
Middle School 6-8 Book One: The Elements of Art and Composition.
which sells for $47.95.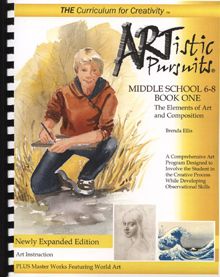 The
first page of the book
lays out the units and also gives a supplies list. (click on that link to see that page!) We had all the supplies for the first semester already because of previous art classes. They are simple supplies, that most homeschooling families should have already, which is great so you aren't spending a fortune to get started. If you don't have the supplies or want to go collect them yourself, you can purchase a
complete supplies kit
on their site too. Cool!
Each unit is divided into 4 lessons and they suggest you do 2 lessons a week. They said that each lesson should take about an hour. For us the time varied. C did most of the lessons in 30 minutes. If you were a slower or hesitant artist, they could take longer. The thing I love about this book, is they can do it all on their own! There is no teacher's book. All the lessons are written TO the kids and they do the activities at the end of each lesson. So, if he wanted to take 2 hours on a piece, he could. We did this after school was done so it was just his free time he was using. LOL.
We found the teaching to be easy to understand - like I mentioned, it is written to the student, not the teacher. C could read through the lesson and do the activity all on his own. It really gave him good, quality art lessons too. I loved that they discussed actual artists and showed real art in the book. Each unit has a section about an artist and different cultures and how art plays into those cultures. I liked that it wasn't just a step by step guide...they had a chance to be creative too.
For example:
In lesson 1 - the first day they taught about space and he did an activity with his name taking up different amounts of space on a page. He had fun with this and did it with our names too.
In the second lesson, he replicated this painting to learn about space on the page. They taught how space tells a story.
The next day, he practiced sketching and had more freedom in what he drew. He sketched his 3DS that day.
Then the last day of the unit, they do their final project. This time, it was drawing about a story called
The Blind Men and the Elephant
that was written in his book
.
He made his final project look like it was a game show called "Guess that Object" - lol. His elephant is surrounded by blind men guessing parts of the elephant.
I like that he had freedom to make the final projects his own. That kept him from hating it - he doesn't like to be told exactly what to do. This gave him enough wiggle room to make them his own, but still taught him what he needed to know...if that makes sense. Each week went the same as the example. They show all of
Unit 3 on their website
. Check it out and try it before you buy it. I think you will love it!
During the week, we did art on Tuesday and Thursday, one lesson each day, so one unit took two weeks. Some weeks, we combined two lessons into one day and got through more - it just depended on how "into" it he was that day and how long the assignment took.
The entire book focuses on drawing and composition. They learn about shapes and textures, balance and perspective and everything in between. It is a very well rounded art education. The second book in the series adds in color. I'm looking forward to that one too!
There are 64 lessons in the book, so if you do 2 a week, it will last your full year of school. So, while $50 seems high for "just a book," it is a great price for a years worth of fantastic art lessons! C is enjoying it a lot, so I think we can finish up this book this spring and summer and be ready to start the color one in the fall, when he starts 8th grade (what?!?). I really like this company and highly recommend them to people wanting an art curriculum for home that isn't crazy complicated and requiring crazy amounts of supplies. This is perfect for what we wanted for him.
To read more reviews from other Crew members click
here
or on the banner below.

Disclaimer: I received a free copy of this product through the Schoolhouse Review Crew in exchange for my honest review. I was not required to write a positive review nor was I compensated in any other way. All opinions I have expressed are my own or those of my family. I am disclosing this in accordance with the FTC Regulations.