We are so excited about our first TOS review of 2013:
Classical Academic Press
:
God's Great Covenant Old Testament 2.
We have spent a lot of time studying the beginning of the Bible and the New Testament, but haven't spent as much time focusing on the Minor Prophets so I jumped at the chance to review this. It is designed for 3rd-6th grade, but I did it with both P and T together, who are in 2nd and 4th and they did great with it.We love the classical approach to education so I was excited to give this a try.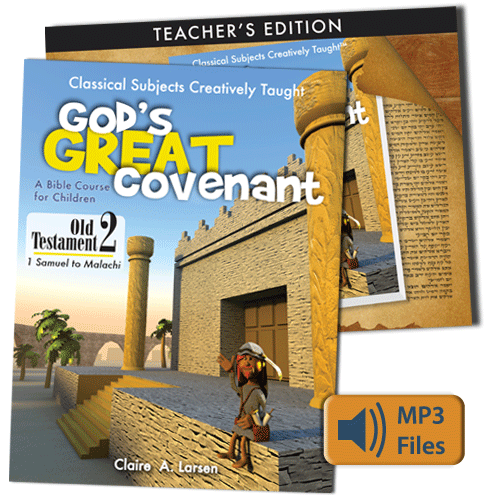 On the
Classical Academic Press
website, they have a
sample weekly schedule
to use with this curriculum. I printed that off and started studying the Teacher's Guide to see what all was involved. We do CC on Mondays, so we had to either double up a day, or do the quiz on Saturday. It says it will take about 20 minutes a day. We decided to double up a little and not have to do it on Saturday if possible.
Normally, I'm not a Teacher's Guide kind of gal...I usually just wing it, but I'm loving
this guide
. From the moment I opened it, I have loved it. It includes the entire
Student book
, but with the answers added in (woot!) and tons of additional information for explaining and going deeper. I highly recommend getting it to go along with the student book. You won't be sorry.
Our first week using
God's Great Covenant
, we stuck pretty close to the sample schedule. The next week, we started to find our groove and made some adjustments. I'll tell you what worked for us, but there is definitely flexibility to make this fit your family's needs.
The first day of a new chapter (Tuesday for us), we work on the memory verse and go over the memory page together. This is where that teacher book came in very handy for me - it explains the key facts in more detail and gives a lot of background info that I found helpful as I explained it to the kids. What I liked also is that you can just read the additional info to them - it isn't in "adult-ese" where I had to read it and translate it into kid speak. They could understand it with me just reading it. That cuts WAY down on the prep work for this curriculum. I was basically learning right along side them! Then, still on the first day, we would pop in the mp3 files and listen to the story.
I LOVE THIS!
All of the stories, in every chapter, are in mp3 format! There are so many possibilities here to get the Word into your kids. They are dramatized and easy to listen to, not boring and the kids never complained about listening. They could listen when they are playing or going to bed, as well as during Bible time. My kids love listening to audio books so this was perfect for them. I imagine we will listen to these over and over, even after we finish this book! A great way to get the Bible stories in their heads and hearts. Again, I highly recommend the mp3 - sure, all the info is in the book and you can read it to your kids (or have them read it), but this way they have it to listen to over and over. Each chapter also lists Scripture to read that goes along with the story. I assigned that as their "quiet time" reading each week as it wouldn't fit into the 20-30 minutes, but allowed them to have extra time learning later in the day.
The next day, we would listen to the story again and then they did the worksheet alone...well, together, but without me. All of the answers were found in the previous pages so this was good for study skills and copy work too. T and P worked together on this as it was slightly too difficult for P to do alone, and T enjoyed being 'helpful' to P too. Then on Thursday, we listened to the story AGAIN and went over the worksheets together to check their work and let them correct anything. Then on Friday did the quiz and went over it together. The appendix in the back was also a hit as was the glossary and maps. They loved the maps!
20 minutes a day is not a lot to ask for such a great foundation in His Word. The stories are wonderfully written and applicable to the kids today. My favorite 'a-ha' moment so far was in chapter 3 when we talked about Saul disobeying God, yet still offering a sacrifice, so thinking everything was cool with him and God. We had good conversation about if it is ok to do the right thing with a wrong attitude and if that honors God. They were a little shocked that He isn't impressed if you obey but have a stinky attitude. Hmmm... something to think about.
I am so glad we were chosen to review this! It has certainly been a blessing to our family and we will continue to use it each week. You can
download a sample pack
of the book we reviewed that includes several chapters. Check it out and see what you think.There are 32 chapters in the book so it could easily fill your entire school year! They also have
God's Great Covenant: Old Testament 1
that covers the beginning of the Bible.
If you chose to try it, the prices are very reasonable, in my opinion. The
Student book
is $22.95.
Teacher Edition
is $24.95.
Audio File download
is $9.95. Or...you can get
all three as a bundle
for $49.95, which is what I would recommend. Like I said, I am normally very
cheap
frugal and just get the student book and call it good, but I think you will truly love the teacher's guide and audio files with this one!
You can read more review from the crew by clicking
here
or on the banner below.

Disclaimer: I received a free copy of this product through the Schoolhouse Review Crew in exchange for my honest review. I was not required to write a positive review nor was I compensated in any other way. All opinions I have expressed are my own or those of my family. I am disclosing this in accordance with the FTC Regulations.