Grace and Truth Books
is an online Christian book store in my own backyard, based out of Sand Springs, OK. Oddly, I had never even heard of them before we were offered this review! They are a family run business that boasts their goal is to "glorify God, strengthen His people in their walk, and call all peoples to find joy in knowing His gospel and following Him." Gotta love a company that posts that right on their home page!
Dennis and Naomi Gundersen
, and their four boys began Grace and Truth Books in the mid 90s and have been selling and publishing Christian material ever since. They are not as concerned about having the newest material released as they are having quality material that promotes Godly character in our families.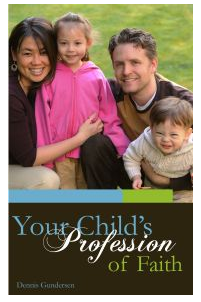 The book I was given to review is
Your Child's Profession of Faith
, by Grace and Truth founder, Dennis Gundersen. It
sells for $7.50
or you can get it as an
ebook for $5.50
. This was a very timely book for us as Princess P was talking to us almost daily for at least a year about wanting to become a Christian. Ironically, P got saved before the book arrived (see my
review of Sugar Creek Gang
for details), but I am still glad we chose to review it.
This is a short, 119 page book that is beneficial for parents and pastors to read if they have children or are working with children. Mr. Gundersen does a great job of cautioning parents against making a profession of faith FOR their children, or pushing them into making a decision. At first, it seemed to me that he didn't think that
any
children could be saved as he quotes many verses and reasons why you need to be mature to fully understand your decision. As I read on, he actually encourages us to urge our children towards Christ, just to not rush this process. There is much to be learned in the
process
of becoming a Christian and to rush it will do the kids no favors and deceive them as to whether or not they are truly saved. He says, "Do all you can do to be parents who create an atmosphere at home in which your children are at ease talking to you about knowing God." I think this was the key to the book. We, as parents, must be educated and willing to put in the time to really
lead
our kids to Christ and prepare them to be able to profess their faith on their own and understand what they are professing.
Chapter 9 is a great resource on how to counsel our children during these years. One of my favorite parts of this book is the section right after that that contains questions for pastors to ask children before baptizing them. These have been great conversation starters with the kids during the day. They make them (and me) think of real answers and not "church" answers. They ask questions such as "Is there anything new the Lord has begun to teach you since you have been saved?" They have helped the kids to put their conversion story into their own words and really think about what being a Christian means to THEM.
Mr. Gundersen ends the book by sharing a few chapters from Andrew Murray's classic book, "The Children for Christ", written over 100 years ago. It goes nicely with the rest of the book and was an encouragement to read something that old that is still relevant today.
Check out what other Crew Members thought about this and other books from Grace and Truth Books by
clicking here
or on the banner below.
Disclaimer: As a member of the TOS Crew, I received this book
, at no cost to me, in exchange for my honest review. All opinions are mine.