The Wild family, originally from Florida, are missionaries in Papua, Indonesia. The video series,
Growing Up Wild
, is about their lives there and is absolutely wonderful. It is not a profession production, where a team came in and followed this family, it is actual footage the Wilds shot of the people, area, and themselves while in the mission field. You would never know it wasn't professionally shot though as the colors, camera work, and coverage are amazing.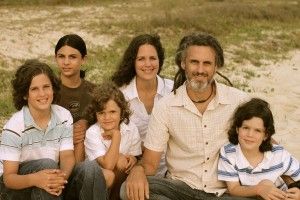 There are currently
5 volumes
in the series and we received
Volume 1
and
Volume 4
for this review. Each volume is $18.99 (plus tax and shipping) and contains 3 episodes (about 15 minutes each) and a PDF activity guide to go along with them.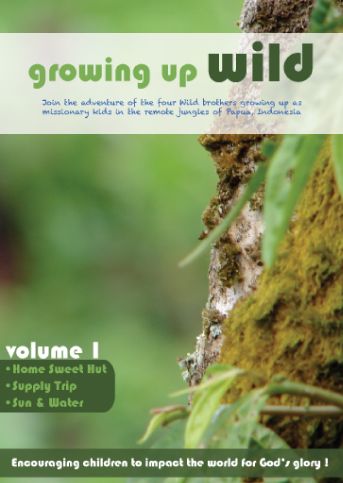 Volume 1
's episodes are
Home Sweet Hut, Supply Trip,
and
Sun and Water
. This really helped us to see exactly how they live in Papua. We met the 4 Wild brothers and they showed the ins and outs of their home, and the homes of the Wano people. We followed them on a supply trip that made us appreciate that we get to wait in lines at WalMart! And lastly, we learned how they use the sun and rushing water near their house to provide electricity and water for their home.
The kids didn't move once they sat down to watch this DVD. Captain C took notes on the activities it suggested at the end of each episode so we could decide which ones to do. Then we opened up the PDF and realized that we didn't need to take notes after all. This CD is awesome! It is full of ideas, verses, and words from their hearts on how to make these DVDs even more meaningful for your family. There are enough activities in there that you could spread it out over a week or more (some you would do off an on all year actually). We chose a few that the kids wanted to do and began. I will not show you our poor model of a Wano home, made from Q-tips and string. It wasn't worthy of a picture and couldn't even stand on its own anyway. However, making it made us even more impressed with the Wild's home and how they built it without a modern day construction crew! They made a vendiagram of our home and the Wild brothers home; that was fun. We noticed some of the same school books we use in the video, which was cool to think that they are learning the same things we are. Then we learned about making a solar oven and googled how to make one our own. Honestly, I think we can do it...next summer. Poor timing as the temps are so cool that we would just be able to heat in it and not cook. Definitely something to come back to later.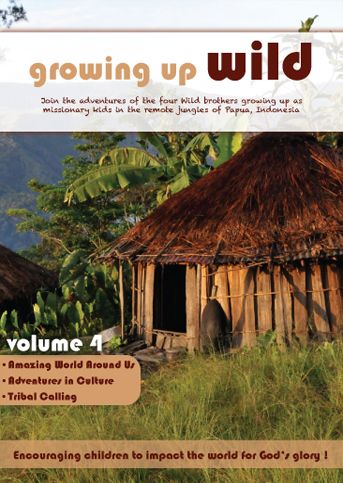 Next we watched
Volume 4
and learned even more about their lives in the jungle. These episodes are titled
Amazing World Around Us, Adventures in Culture
, and
Tribal Calling
. The jungle they live in is full of God's beautiful creatures. Absolutely gorgeous. One of the suggestions in the guide is to classify animals and insects, which goes right along with what we are learning in CC this year - yay!
We learned a lot about the culture of the Wano people in the second episode, including them piercing their noses, which two of the Wild boys did! The kids asked me if I would let them do that and I said if we had lived there for several years and they still wanted to...sure, but I wouldn't watch! I had to cover my eyes in that part of the show ;) We enjoyed doing the "Culture Worksheet" they included - comparing our culture to the culture of the Wano people.
The last episode on here though, was outstanding. Mr. Wild shared about their calling to the mission field and some of what they have done for the Wano people. Some things include spending 3 years with them, learning to speak their language and then helping them invent (yes, they didn't have one at all!) a written alphabet so they could read God's Word, which they are translating into their language. WOW! This one touched our hearts and made us think more about how we can serve in the mission field. They showed that serving is more than just being a missionary; people need to pray and support them from home too. They shared Romans 12:4-5, which we used a copy work for the week. They encouraged us to write out our testimonies to share, like a Wano gentleman gave his on film. We are working on that and hope to have them finished soon.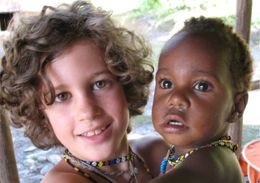 There is so much in these DVDs that I want to do with the kids, and with others. I would love to have a group of kids meet, watch them, and do the activities together. I hope to get that going soon. I can't wait to share these with other people and to get the other DVDs in the set to learn even more. It is so exciting to read about others that are serving the Lord. These are worth every penny and minute you spend on them!
Check out what other Crew Members thought about these DVDs by
clicking here
or on the banner below.
Disclaimer: As a member of the TOS Crew, I received th

ese DVDs
, at no cost to me, in exchange for my honest review. All opinions are mine.