My kids love audio books and can normally be found listening to one almost everyday at some point. So when
Wizzy Gizmo
offered to send
Audio Drama One: Who Created Everything?
for me to review, I was excited to have an audio book with a purpose for them to listen to. This is recommended for ages 4-12 and retails on their site for $14.99. It is 36 minutes of high action drama, followed by 24 minutes of beautiful soundtrack music to enjoy.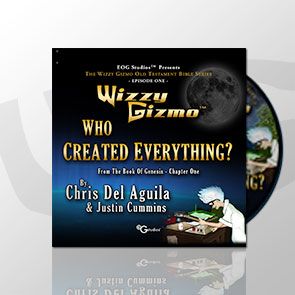 The founders of Wizzy Gizmo have a passion for getting the Word of God in homes. They don't want you to replace your daily Bible reading with their products but want to add to that time and fill your home with His Word.
We popped this in the van so we could all listen to it while we drove into town. The kids normally listen to things before bed, but I wanted to preview it to see what it was about first. I'm glad I didn't put this on as a bedtime listen!! It was so fun and entertaining that they never would have fallen asleep. The sound effects and dramatized story was exciting to listen to for all of us. Terrific T said he wished it was a video though, because he wanted to see what the sounds were. lol.
The storyline is that a professor has an invention, called Gizmovision, that you can put books on and it will
show
them to you. They decide to put the Bible on there, and go back to the beginning...creation! The kids get to see (or hear for us) each day of creation. There is a catchy sound track (Princess P said some of the songs sounded like Disney songs - they are upbeat and fun and really are catchy) that goes along with it and then is played alone at the end.
The stories were accurate, in my opinion, and they added in extra facts that several times I was about to say to the kids to clarify or add on to the story, but they did it for me. These are very well done! We just left it in the van to listen to a few more times before sharing it with others.
We all enjoyed this a lot and hope they will make more Wizzy Gizmo stories for more of the Bible. I think listening to this helped make the Creation story more alive and active for the kids. It was fun and easy to listen to and you didn't hear a word in the car while they were listening intently.
Check our more info on this product at:
Facebook: https://www.facebook.com/wizzygizmo
Twitter: https://twitter.com/wizzygizmo
Pinterst: http://www.pinterest.com/wizzygizmo/
Google+: http://www.plus.google.com/+wizzygizmo
Vimeo: http://vimeo.com/wizzygizmo
And click here to see what other Crew Mates thought: