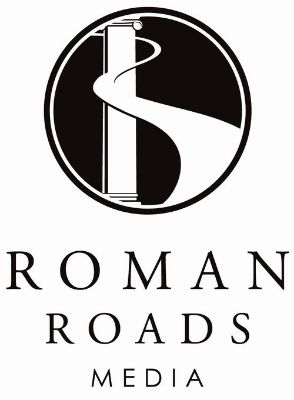 When I heard that Roman Roads Media was offering Visual Latin 1 and 2 up for review, I jumped at it. A friend had mentioned in the past that she liked it, but I needed to see it for myself. Captain C does Latin with his CC class, but the other two are a little (understatement of the year) hesitant about Latin. Visual Latin is recommended for 4th grade and up, which Princess P is starting 4th and Terrific T is starting 6th. I've been looking for a way for them to be introduced to Latin, and like it. Enter Dwayne Thomas! What can I say about Mr. Thomas? He makes learning Latin fun and easy! The kids never once complained about doing the Visual Latin. He's so funny and it makes Latin not scary at all. When he said he was from Oklahoma in one of the lessons, we knew we were hooked.
Roman Roads Media sells homeschool curriculum that is classical and Christian. Hmmm...right up our alley! I was sent the downloadable link for Visual Latin 1 that is currently on sale for $70 (normally $100). They were updating the DVDs when my review period started, but said they will send me that now too - sweet! It is on sale now for $85 (also normally $100). I feel like I can teach most subjects pretty well, but Latin...not so much. Having this on DVD was a big seller for me. I was happy to let Mr. Thomas take over these lessons and I became a student along with the kids.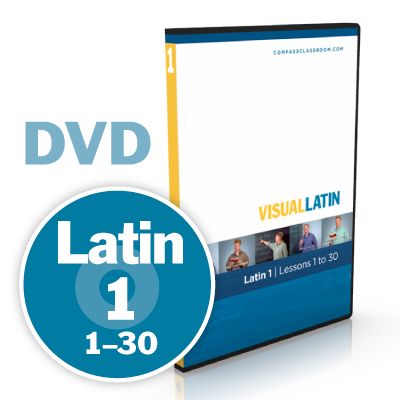 There are 30 units in on the DVD - each divided into 3 lessons. There is also a free workbook that you can download to go along with them. I printed this out, thinking it would be 30 pages (30 units...follow my logic here?) but I wasn't thinking that each lesson would be a page so I printed about 100 pages. lol oops! Oh well, better to have them all printed ahead of time so we are ready for the year.
The videos are short - like less than 10 minutes each and the time flies by when you are watching them. There are 3 of them for each unit - one for grammar, sentences, and reading. We would watch the video, and do the worksheet together. Since I was teaching two kiddos at once with this, we did most of the worksheets orally, or I would write what they answered, but we did them all together. I like to let them do the translating pages with each other - translating every other sentence. Then we go over them together.
I love that while there is a lot of great, deep teaching, it's done at a level that kids understand and relate to. I mean, what better way to teach about predicate nominatives than with the sentence "I am a ninja." That got their attention. haha. The grammar page really teaches the lesson. The sentences page is where you use what you learned in that lesson and previous lessons (He made a point to say that you are now responsible for what you have learned and it will appear in future lessons after you learn it). Then the reading section. This is a cool addition. Mr. Thomas reads from the Latin Vulgate. He reads a few verses once. Then reads it again and we repeated it. Then we did the 3rd worksheet where we translate the Vulgate. I'm amazed at how much vocab the kids are learning through these three lessons each week. Using the words over and over is making them sink in and they aren't even doing vocab drilling. The translation pages has a word box of vocab words on it but most of them they already knew if they paid attention in the videos.
The entire lessons take about 20 minutes a day for us to do. It is a small investment of time for big returns. We did this three days a week during the summer, but started this week back to school so doing it 4 days a week. We should finish up Latin I and be able to start Latin II this school year. I can't wait to see how much they learn.
I can't say enough good about this program. It is simple - no frills learning. It's pretty much Mr. Thomas and his chalkboard. They put all the writing up on the screen so we can see it and hear it while he is teaching which is helpful. And I love the repeating the Vulgate together so you are learning how to pronounce the words. I know that Latin is called a "dead language," but I disagree. It is very much alive and living in so many of our other languages. It is such a beneficial language to know! The kids are learning so much (and we are only on unit 5...took a vacation in the middle of this review!) and it's done in a way that makes you forget that you are learning such a hard subject. People hear "Latin" and shiver and assume it's too hard for them, but this really makes it doable. Check it out! I don't think you will be sorry. You can check out sample lessons here to see how great they are before you buy them!
Facebook: https://www.facebook.com/RomanRoadsMedia
Twitter: https://twitter.com/RomanRoadsMedia
Pinterst: http://www.pinterest.com/romanroadsmedia/
Google+: https://plus.google.com/115410002124541916147/posts
YouTube: https://www.youtube.com/user/romanroadsmedia/videos