Looking for an easy way for your kiddos to learn and practice their math facts? Then look no further than
UberSmart Math Facts
from
UberSmart Software
. We were graciously given this software program to review a few weeks ago and have had fun exploring it.
This program that was written by a homeschooling dad, is a downloadable program, so you need to be connected to the internet to play. It is important to note that this is for Windows 7, 8, XP and Vista only. Sorry Mac users. Up to 8 kiddos can use the program and it is suggested for grades K-6, but I think it really can help older kids also.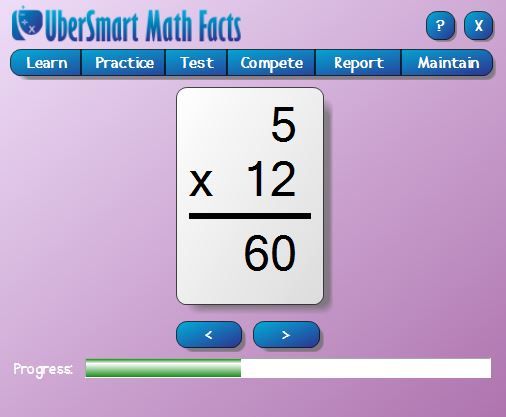 Almost all the flashcards we buy, and math drill games we play, only go through 12x12 on multiplication. UberSmart is really uber smart - they go through 20x20! Woot! For CC, the kids have to memorize through 15x15 and it is so hard to find things to help them review these so I was pumped to see this perk. UberSmart Math Facts includes addition and subtraction problems through the 9s and multiplication and division through the 20s. There are drills and tests to see if you have mastered them. You can choose to do one number at a time or mix them up. There is really a lot of variety in this simple program.
The first thing I did when I got the software downloaded was to put Terrific T and Princess P in the program and adjust the time limit on the problems. They both freak out if they know they are being timed and I knew that would make them not even want to TRY the program. So I added in some more time for T and even more time for P so they wouldn't be stressed and could learn to use the program. This is an awesome feature in a program! I appreciate them letting me, the teacher, choose how long they have instead of having a preset time. Then I started to look around and explore. For younger kids, there are dot flash cards to help them learn the facts and typing practice to learn where the numbers are located on the keyboard. For older kids, you can start with straight flash cards. They believe in teaching the problem before you begin testing them on the facts. Another feature that I appreciate in this is it is like actually using a deck of flash cards. You don't just get random cards, you get all the cards in a set - so all the 6s or 13s or whatever you are learning.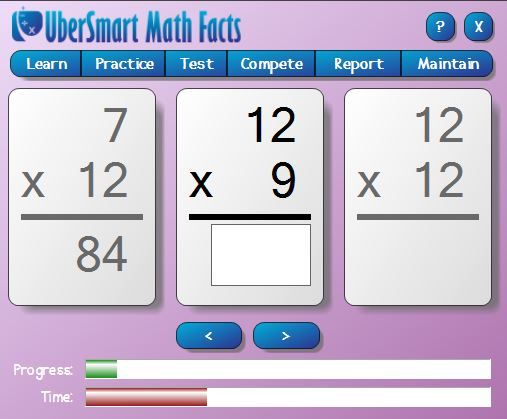 After you do your learning and reviewing, you can take a test to see how you are doing. During the test time, you can see the card before and after yours. At first, this was a little annoying to me and the kids, but as we got more used to the program, they liked being able to look ahead and answer fast. This is like when you do a pencil and paper test - it's not just isolated facts. During the test, it doesn't tell you right or wrong. You answer and it moves on. At the end of the test, it shows you the missed ones and you can go back and do the flash card practice with just those missed number and focus on getting those mastered. This saves time in drilling the facts you already know. Sweet. We like saving time!
There are also reports available that show how close you are to mastering each problem. Your progress is represented with happy and sad faces in red, yellow, and green, with green being mastered. We hope to get them all filled in green and smiling in the next few months.
I also want to add that I had some trouble when I first downloaded the program (totally MY error, not theirs) and I emailed the company, not mentioning I was on the Crew. I got a quick and excellent reply from the creator of UberSmart,
David Kocur
. He was very kind and helpful and got me up and running quickly.
I added this into the kids math rotation. It obviously didn't replace their math program, but was a great addition to it. I had them do one set a day (4s, 5s, 6s, etc). I let them choose, as long as they weren't doing 1s or 2s or something. lol.Now that CC has started, I'm having them do the numbers we are skip counting for the week. I really think this will help with Memory Master this year! 10-15 minutes a day will pay big dividends in the end. In all honesty, my kids don't normally love doing math on the computer, but this is different. It really is like flash cards. There are no games and distractions. It is simple and it works. My kids were happy that you could get on and quickly get it done. They have games they like to play, but not mixed with math. lol
The software (that you can download and keep for life - no renewal fees or anything) is $24.95. And check this out....They are offering our readers a 30% discount if you purchase before September 30th. Use the code "v4 Early Bird" as the discount code on the purchasing page to receive the discount.
You can click the link below to see what other Crew Mates thought about the software.