Being a former Special Education teacher, A Life in Balance was highly interesting to me. When the Learning Breakthrough Program offered it up for review, I was excited to learn I was chosen to review it.
A Life In Balance is the story of how Frank Belgau came to put together a program that will help all children learn, regardless of their abilities (he never focuses on their DISabilities, which I loved). The book is autobiographical, as told to his son Eric Belgau and follows Mr. Belgau's "adventures" over about 30 years to the final product of the Learning Breakthrough Program.
The Learning Breakthrough Program actually began forming in Frank Belgau's mind when he was just a child. He didn't learn like the other kids and was the only one in his family that wasn't great at reading and school. The book goes on to describe his journey full of trials and errors to find a system that would help kids, like he had been, learn to read well. He helped children that people said were unteachable. He focused on what they COULD do and built from there. He worked on having them use both sides of their bodies equally while preforming simple tasks and found that this greatly increased their ability to learn!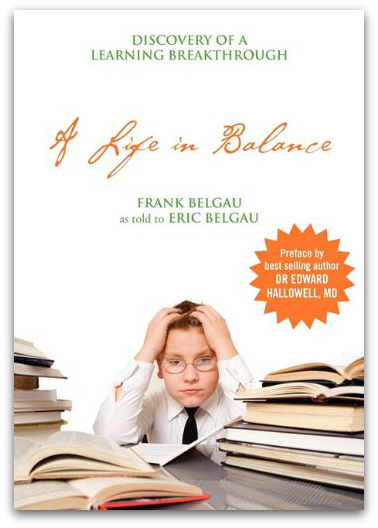 Throughout his career, he met and attached himself to like minded people. People who saw the world differently and had a passion for helping children. Together, they brainstormed and created opportunities to experiment and observe children using their ideas. They then kept what worked and scrapped what didn't until they had the perfect plan.
Mr. Belgau was an elementary teacher for many years, which provided him with the perfect guinea pigs to learn on. When he tried different ideas, he would only keep ones that showed immediate results and throw out the rest. The kids enjoyed helping him with this and had definite opinions on what worked and what didn't. Based on this, Mr. Belgau would make changes and learn more and more about how to make reading a multisensory exercise. He found that using both sides of the body equally helps break through the barriers in your brain and make learning happen.
Almost the entire 197 page book is about his road to creating this program, which includes meeting his wife in the process. He faced many challenges and setbacks but persevered because he believed in the research and the kids. In the appendix, he describes his "space walk", which consists of some things that anyone can do at home, with very few supplies to help your own kids learn, but by the end of the book, that wasn't enough for me. I wanted the entire Learning Breakthrough Program. Seriously. However, it's $400 - shoot. So I'll stick with doing the free space walk explained in the book for now and start saving my pennies. Or if any of you want to purchase that for me, I'd be super grateful. I really do think this would help all the kids learn better.
I found this research and system fascinating. The book is easy to read, although I think it could be condensed quite a bit and still get the point across. By about 50 pages in, I was already sold and hoping to start learning HOW to help instead of more about how he came up with the program. I was already convinced that we needed it and would really love to try the entire program based on the findings in his book.
I brought the book on vacation last month and read by the pool while the kids swam in between rain storms. The chapters are short and it was interesting to read. I think both "normal" learners and slower learners could benefit from his program and the book is appropriate for all parents and teachers to read.
The book is only $16.94 and you can watch a video on the program here too.
You can learn more about this book here: