Learning Wrap-Ups provided us with some super fun products for our family to review recently. We received all of the following fun educational items:
3rd Grade Reading 1 Base Center Kit ($61.99)
3rd Grade Math Learning Palette 1 Base Center Kit ($71.99)
Learning Wrap up Basic Math Intro Kit w/o CD ($44.99)
Learning Wrap up Vocabulary Intro Kit ($35.99)
10 Days to Multiplication Mastery Wrap up and Book Combo ($12.99)
10 Steps to Addition Mastery Wrap up and Book Combo ($12.99)
WOW!
When we got the box of goodies, we didn't know where to begin. Everything is so bright and inviting and it doesn't seem like school when it all looks so fun! I had selected products that I thought Princess P would be using but Terrific T and little Buzz ended up using them along with her. YAY.
The kids grabbed the Math Learning Wrap-Ups first. These are fun, QUICK review of addition, subtraction, multiplication, and division math facts, and one that is all fractions. These come with a little idea book on how to use them besides the obvious of just doing the wrapping. Both T and P sort of freak when they are being timed on something *sigh* so I didn't do much timing, like a lot of the games suggest. I had them see how many times they could do them in 3 minutes or had them just do them a certain amount of times and they loved it. Often I would just tell them to get a certain wrap-up and do 4 of the keys, or whatever. This is a totally flexible and easy way for kids to review their work. The mat set comes with 5 wraps-ups so both T and P could be doing one and little Buzz could be playing with another one and staying out of trouble. lol. These are perfect for kids who are just learning, or are wanting to get quicker and review their facts. The fractions were a fun change from just the facts. I loved them.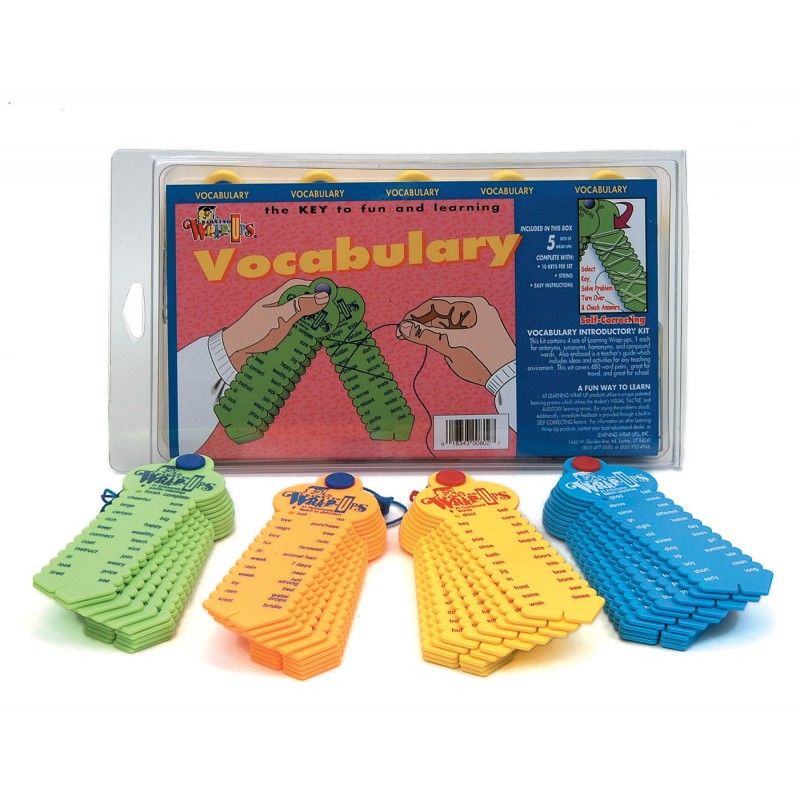 We also enjoyed the Learning Wrap up Vocabulary Intro Kit. It's the same idea as the math wrap ups, but comes with 4 of the keys sets: synonyms, homonyms, compound words,and antonyms. Like the math ones, these are self correcting. They do their key and then flip it over to see if they were correct. I had heard of the math wrap ups, but not the vocab ones and loved them. There were some on there that really made us think and it was good for the kids to learn some new words. This also came with ideas on how to use them. I like that these are so mobile. We often grabbed a few when we were heading to the store or anywhere and they could do them quite a few times before we got there. There are no little pieces to lose and the review was great...but they both really enjoyed them so it wasn't like work. I'm doing workboxes this upcoming year and these will definitely be going in there as a "break" in the day. You know I love when "breaks" are really learning in disguise. ;o)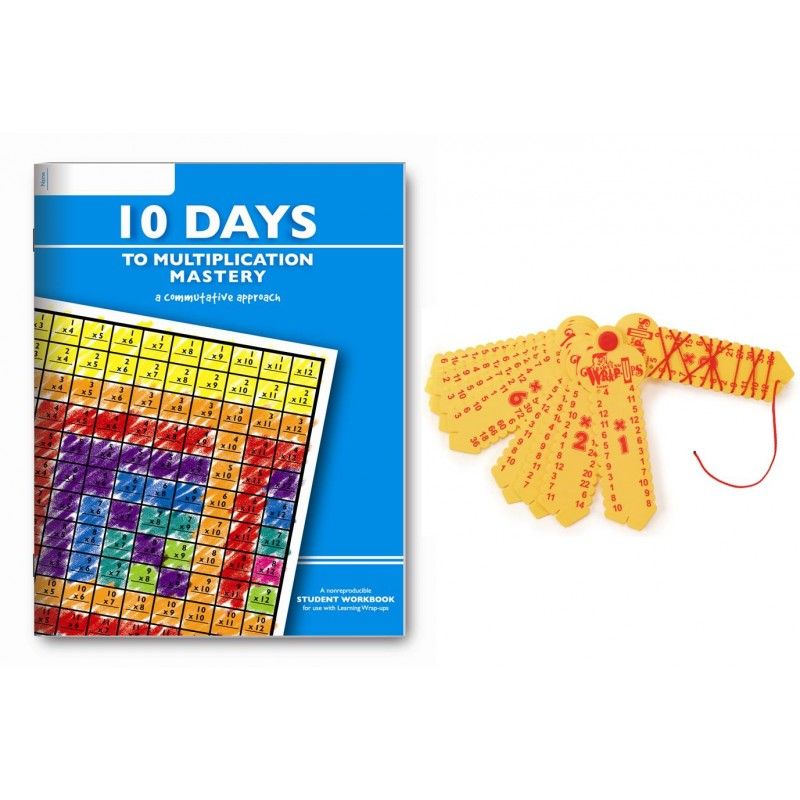 One of the things I was most excited about was the 10 Days to Multiplication Mastery. Princess P is just learning multiplication this year so I was intrigued with how this would work. The set has a 62 page consumable student workbook and the multiplication wrap-up. Each day, you are supposed to master one or two multiples...for example, on day one it is 1s and 2s. Day two it's 10s and 3s. You spend time using the wrap-up over and over and over for that number and time yourself to get quicker, then do workbook pages. We found that it was a LOT of time to spend each day so broke the days in 1/2. We are also still doing our regular math curriculum and it wasn't being fun to do math all day. lol As I mentioned above, P hates being timed. This time I made her suck it up and sat with her, timing her on my phone. She tried to get upset about it but surprised herself that she was doing the whole keys in less than 30 seconds. They have you set a goal and she said the longest - 1 minute - lol. This was incredibly good for her self esteem to be forced to be timed and to succeed. YAY! I'm not sure she has them all totally mastered just yet, but is way closer than she was before we did this. She is answering them faster and by doing them out loud while she wraps them, she is using all three learning styles: auditory, visual, kinesthetic at once!
We were also blessed with the 10 Steps to Addition Mastery. This is just like the multiplication one and is great for review for my kids. I didn't spend as much time on this one since they are further past it, but for younger kids, this would be excellent as a supplement to their math curriculum!
And now on to the Learning Palettes. These things are so cool!
Each set includes the base and all these little colorful circles. The little boxes each include 12 cards with 12 questions (challenges) per card, so 144 questions in a box (like that quick math? I did the wrap-ups too!).

The 3rd grade Math set has 6 boxes of cards and the Reading one has 5 boxes. That's a lot of variety for the kids.


To answer the questions on the cards, they use the colored circle and place them around the base in the correct spots. I love that this is another self-correcting "game." After all the circles are in place, they flip the card over and the colors should all match. Little Buzz did his on the back side only and matched the colors. It was so fun for him to "be big" like the kids and he was actually learning too...colors! T and P both did these also. T liked them because they were "easy" and I liked that it was really good review for him! P really had to think on some of the questions. Some of the math problems she would normally have worked out on paper, so was getting frustrated that I wouldn't let her use paper and pencil for them. You definitely could work them out on paper, but I chose to use this as a practice for standardized testing that we will be doing in a few weeks. I showed her how to rule out obviously wrong answers and narrow down her choices. Once she did this, it became more of a game and she wasn't stressing anymore. The reading ones were really good for review too - so many topics are covered that you could use these year round along with your Language Arts and Math curriculum.

Phew - that's a lot of things to review and it was so much fun. These were all fantastic supplements to our curriculum that I know we will continue to use. Now that they know how to use them all, they require really nothing from me (woot!) so are great for when I get a phone call or am helping C with his work or taking care of a little one. These will be kept with our school supplies or in work boxes for just those times and we will keep using them all.

The Learning Wrap ups website ( www.learningwrapups.com ) has recently been updated to include a homechool products category. This category includes individual products and kits that are appropriate for Homeschoolers. Essentially it simplifies your navigation through the website so that it is not cluttered with our larger kits that are designed specifically for classrooms and schools.
You can use the code HOMESCHOOL in the coupon code all purchases will receive a 20% discount.