I am always in the market for a way to protect our ipads or phones and was pumped to have the opportunity to do a review for
Trident Case
. I was so generously sent the
Kraken A.M.S Case for Apple iPad 2/3/4
to review and stalked my mailbox waiting for it to arrive.
I actually wish I had heard about this company earlier because we love this case. The kiddos and I use our ipad almost every single day. I love it and love the convenience of having it at the table or couch or car or church or etc, etc, etc. :) Having foster little ones, our ipads have taken quite the beating this past 8 months. They have been dropped and thrown and the leather cases on them have been almost shredded. This is the perfect solution for families who use ipads.
The case was so easy to get on the ipad. It is actually three parts, like the picture below. The shock absorbing silicone inner sleeve goes on first to hug the ipad and then the hard case snaps on around it. The front of the case acts as a screen protector - that can't be peeled off on all four corners by you-know-who. ;)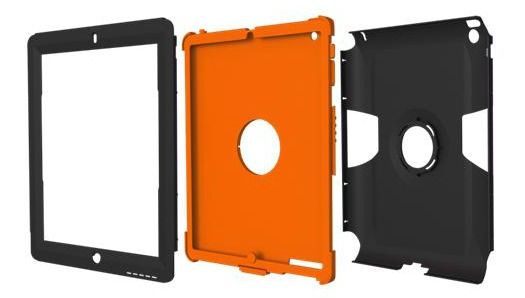 Once it is all snapped into place, the holes for the cord and camera are perfectly lined up. It was easy to charge and use headphones and the case didn't block the camera's view when we were facetiming. Each of the holes has a little cover (on the silicone insert) that you can snap open or closed to keep dust and elements out or pop open to charge. It is all connected so you don't have to worry about losing the little plugs.
They have eight different colors to chose from. I got the red and black one like the picture below. It's perfect! We have been using it for about a month and it looks brand new still. Little dude has even played with it and it's holding it's own. Phew!
This bad boy is military tested and can withstand rain, wind, sand, etc...and completely protect your ipad. The screen protector requires a little more pressure than my old stick on screen protector but the added protection is worth it. The kids have never mentioned it; I just notice when I'm typing that I sometimes have to make sure I'm connecting well.
They have different cases for difference devices and now I want one for all of our electronics that will be touched by children.
One thing I really miss about my old case is the ability to stand it up. But...I am in luck, because TridentCase has this
cool stand
that I can get for $19.95. I need to get it ordered! For now, I prop it up on books or pillows. :)
This awesome case retails for $69.95 and is appropriate for all ages.
Check out Trident Case here:
Facebook –
http://www.facebook.com/tridentcase
Instagram –
http://instagram.com/tridentcase#
Twitter –
http://www.twitter.com/tridentcase
Google+ -
https://plus.google.com/+tridentcase
Pinterest –
http://www.pinterest.com/tridentcase
Vine -
https://vine.co/Trident.Case
YouTube -
http://www.youtube.com/user/TridentCase
And check out what other Crewmates thought about their products here: