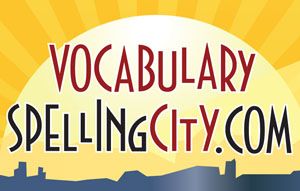 The mission of
Vocabulary SpellingCity
is "efficient game-based study of literacy skills using any word list." I believe it lives up to that mission!
I was given a free
Premium Membership,
which normally cost $29.99 for the year for up to 5 children and we have had a fun time exploring the site. There is something for elementary, middle schoolers and high schoolers and there are so many activities to chose from that we didn't even get to everything yet. The url being "spellingcity.com" is deceiving - there is so much more than Spelling on this site! They offer a wide range of activities that cover a variety of subjects - Spelling, Writing, Vocabulary, and even English Grammar. And everything was so fun that the kids were learning without even realizing it.
As a parent/teacher, I like that you can make assignments for each of the kids and they can log in with their own username/password and do their assignments. When I log in to my account, I can put in individual spelling or vocabulary lists and assign tasks for each of them to do with their lists. I was taking vocabulary words from their other subjects and putting it in lists that they can play games with during the week.

Everything is taught in fun, engaging ways that the kids all enjoyed. One of C's favorite games is called
Sentence Unscramble
where they give you a list of words and you have to put them in order to make a sentence. I liked the
Sentence Writing Practice
section for T as he was getting ready for Essentials. Some of the games were a little frustrating for P however. There is one
game
where letters fall and you have to catch them in the correct order to spell words. She had a hard time with that one so I finished it for her, and I even had trouble! It would be nice to be able to slow it down for younger kids (or older adults, apparently - haha).
Anytime kids are learning while "playing", it is a huge plus in this mama's book! Another huge plus is that it keeps track of their progress and grades and it is all easily accessible in the parent's site. I can see us using this a lot during the school year and love how personalized you can make it, even between kids.
Disclaimer: As a member of the TOS Crew, I received this product, at no cost to me, in exchange for my honest review. All opinions are mine.