Reading Kingdom
is an interactive, online reading program that is for children ages 4-10. It was created by
Dr. Marion Blank
, who has an impressive 40+ year history in the reading field. It teaches 6 skills that are needed to make successful readers: sequencing, motor skills, sounds, meaning, grammar, comprehension.
I was extremely excited when
Reading Kingdom
came up for review because Princess P (age 7) has done another online reading program before and really enjoyed it. P was also super excited to have something all her own to do on the computer. So off we went...
Day 1 she had to take the placement test/skills survey. This was so frustrating for her that she wanted to throw in the towel. Really. :( Parents are not supposed to help the children with this part and it was so hard to watch her struggle. It appeared to be more of a typing test than a reading test. You have the choice of using an online keyboard or your computer keyboard and she had chosen to use the computer keyboard. Big mistake. It took her so long to find the keys (she knew the answers) that she would miss the question. Because of this, it started her at Letter Land, which was really too easy, in my opinion.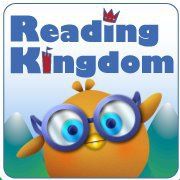 I'm so glad we didn't give up here because it definitely got better. I should stop here and point out that you can email them if you feel the level is too easy or hard and they will adjust it, but I wanted to just let it play out and see how it went. And I'm glad we did. She learned how to type capitals and use punctuation in her sentences during this level. She learned where all the letters were on the keyboard too, which helps her in the next levels (and life, actually ;) ). YAY! Maybe they know what they are doing after all. I need to trust more - lol. She is now doing the normal lessons and enjoying it much more. The lessons are fun and she is able to do it all on her own, which is nice too! She has learned so much more then keyboarding too as she works through the lessons each day. I just asked her what her favorite thing about Reading Kingdom is and she replied, "When we get to practice one word at a time." I like that too - they drill in one word until you can spell it, read it and understand it before moving on to another word.
Even though she logs into her own account and does the lessons on her own, I can log into my account and see where she is at in the program and how she is doing. They also send emails periodically that contain a progress report. When she logs in, she can see this image that shows how far along she is in the level and she gets "stamps" in her reading passport when she earns a certain amount of points (she likes this feedback and will do an additional lesson if she is close to getting that next stamp!). She does one or more lessons each school day. On average, she can complete a lesson in about 15 minutes.
The program is
$19.99
a month for one child, additional children in your family are 1/2 price. There is
no commitment
and you can cancel at anytime. If you pay the whole year in advance, there is a 20% discount, making it $199.99. I love that they have such a passion for this that if the money is truly an issue, you can contact them and they will work with you on the cost. What companies do that? I can't think of any! Also, it is
FREE
for the first month.
What do you have to lose? Go try it out!
Do I think it is worth that price? Being honest here, if it was free, we would probably only do it a few times and forget about it. Making an investment, you stick with things and make them a priority. I think they have a very good thing here but I'm still not 100% convinced it is worth the cost. I am going to continue P doing this all year and will let you know in the spring. She is enjoying it and I do think it is helping, I am just majorly
cheap
frugal so it is going to have to produce great results at the end of the year to justify the expense.
Disclaimer: As a member of the TOS Crew, I received a one year subscription, at no cost to me, in exchange for my honest review. All opinions are mine.
**update 9/8/12** I was reading other reviews on this product and one mentioned an app called "
Rover
". I downloaded this and now P can do Reading Kingdom on the iPad!!! YAY! Check it out - it allows you to do flash sites that are educational. Love it!!