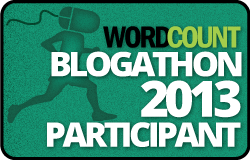 I have quite a few friends that run marathons. I don't. But I can blog. So, when Amanda at
Living, Learning, and Loving Life
posted about
this blogathon
, I signed right up. Crazy? Maybe. But it will be a nice challenge to do this summer, while the kids are off having fun at camps and such. I have done a blog-a-day-for-a-month type thing one other time in the 6 years I have been blogging. It's time to try again.
So....who will join me?
All
you have to do it post once a day. About anything. It can be short or long. Just post SOMETHING. They have some optional
theme days
if you need help getting your juices flowing. I figure that some days might be a simple picture, like
Wordless Wednesdays
, and there are a few things I would like to blog about that I keep putting off, like Disney or CC.
I think it will be fun. Who's with me?
Hey! It's easier then running, Jack.