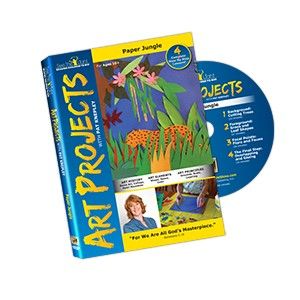 I've mentioned before that my kids love art. We took the summer off of lessons because of our busy schedule, so I was excited when I was chosen to review one of
See the Light
's cool art projects. There are 9 different projects to chose from, and we were given
Paper Jungle
, which is based on the style of Henri Rousseau.
Master Artist, Pat Knepley, is a wonderful teacher in this 100 minute DVD. She breaks the project into 4 lessons and walks you through, step by step. The supplies were all things we had around the house, and are
listed on the site
. They also sell supplies if your project calls for something you don't have.
I was excited for the kids to do something "different" with art. They have never made a paper collage before like this so it was fun to try something new. The suggested age is 10+ but P wanted to do it too so both she and T (8 and 10) did it, and did well!
I know you technically should just do one lesson at a time, but when we finished the first lesson, and they didn't want to stop. We ended up doing all four lessons in one sitting! Ms. Knepley did a great job explaining what they were doing and talking about the artist, and I liked that she did the project right along with them. Each lesson includes training on technique (how to cut properly, how much glue to use, etc...basics that were helping for them to hear), fabulous teaching about the artist and showing his work, and Bible reading/references that applied to what we were doing. It was great!
There is a lot of cutting in this project, which would be harder for younger kids (so I can see why they put 10+ on this). P did ok, but she got a little frustrated with the little cuts now coming out like she wanted them. Also, during the fourth lesson, we finally got to start gluing everything down. That was also a little tough for P because you first lay it all out, and then have to pick them up to glue them without messing up the order of the layering. Ms. Knepley talked about perseverance during this time and P and T were both proud they persevered and finished their cool artwork.
After we finished, we were talking about what they thought. They both mentioned that they liked that they got to do different things and not exactly the same as each other, or the sample. Ms. Knepley was quick to mention that it is ok for them to be unique. T, of course, had to get a pig in there and ended up changing to a night scene before he glued everything down so he could have a "werepig" howling at the moon. P made hers be a bunny rabbit and I made a turtle that looks more like a dinosaur. :)
We really enjoyed this project. The price of the DVD is $14.99, or you can get
all 9 of the Art Project DVD
s for $99.99. You could break them up and do one lesson a week...or be like us and do it all in one sitting. I'm glad we did it like we did so that a)we didn't lose the little pieces from week to week and b)we only had the mess once - haha. It took us about 3 hours, start to finish. They loved it!